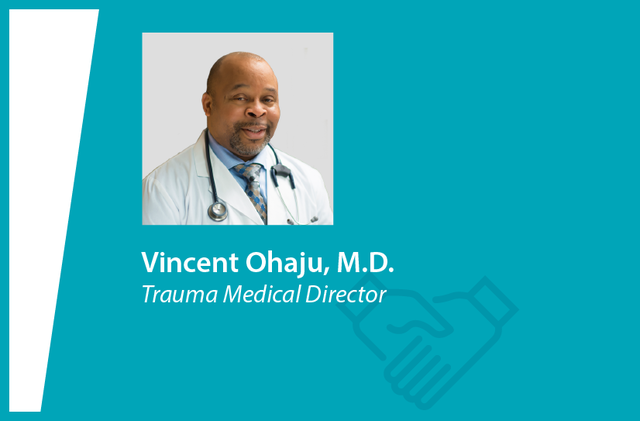 Dr. Ohaju is always looking to help patients beyond the four walls of the hospital.
Dr. Ohaju's Roots
Dr. Ohaju runs the trauma program and provides surgical and clinical care. After going to college in Austin, he went to medical school in Fort Worth and completed a fellowship in Houston. He always wanted to work in health care and loves having the ability to build and support programs and help people.
"I've worked in a lot of hospitals, but CHI St. Joseph Health treats me better than any other hospital has."
A Patient is Not Just a Patient
Dr. Ohaju's philosophy of care is that a patient is not just a patient. A patient is a person who is someone's father, someone's mother, someone's child, and patients should be treated as you would want someone to treat your most loved one or yourself.
He enjoys working with people who exemplify the very best in integrated healthcare. Nowadays, no one person can provide the care a patient requires. Patients require EMS, hospital staff, pharmacists, physical therapists, and trauma specialists to receive the highest quality of care.
A Close Community
He likes how the community is a small town with a splash of big city with the college nearby. It's not too far from Houston, Austin, or Dallas, and the traffic isn't too bad. He is glad that the community has invested so much in trauma care. He can't imagine working anywhere else. His work doesn't end in the four walls of the hospital; he is involved in an outreach program that goes to other locations to find out how they can best serve the patients there and give them adequate care close to home. He is proud that this program employs a lot of people that live in the community.
"I want people to know that they will get the highest level of care available in the area. You would have to go to Houston or Austin to get comparable care to our Level II trauma care. We're here to serve the community, and if they are unfortunate enough to get in an accident, we are here to give you the highest level of trauma care available."
Making a Difference
Outside of work, Dr. Ohaju volunteers for at least two international medical missions per year with a foundation that does at least six or seven missions per year.
Thank you, Dr. Ohaju, for always giving your best to CHI St. Joseph Health patients!