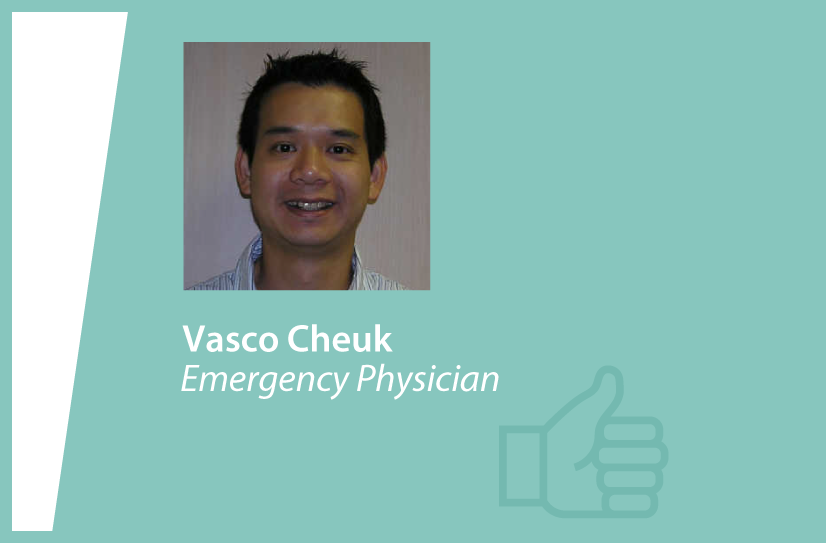 Dr. Cheuk is always doing his best to give professional and above average care to his patients.
"Today I made a phone call to check on a patient after his recent ER visit. He asked me to pass on his 'deepest gratitude for his excellent care when he needed the ER' to Dr. Cheuk. . . [The patient] said his care was 'very professional and way above the average care in the medical field.' He said he hoped he never needed the ER again, but he was sure glad such a great place is available."
Q: What do your daily activities include?
A: Treating patients in our Emergency and Trauma Center
Q: What do you love most about your job?
A: Definitely the people I work with! I am fortunate to work with a group of professionals from all walks of life.
Q: What made you want to work in healthcare?
A: It's a very unique environment. You are trying to help people at some of their worst moments. It's challenging and rewarding at the same time
Q: Where did you go to school?
A: University of Florida and University of Miami School of Medicine
Q: What do you like most about CHI St. Joseph Health?
A: Being a devoted Catholic, I love working at a place that shares my faith and philosophy
Q: How would you describe your philosophy of care?
A: Treat all your patients like you are treating your own family
Q: What do you like most about the community?
A: The people are so genuinely nice in the Bryan/College Station area. I am so thankful that I was given an opportunity to work here and serve the people in this tight-knit community.
Q: What do you enjoy doing outside of work?
A: Eat. My nurses will tell you that.