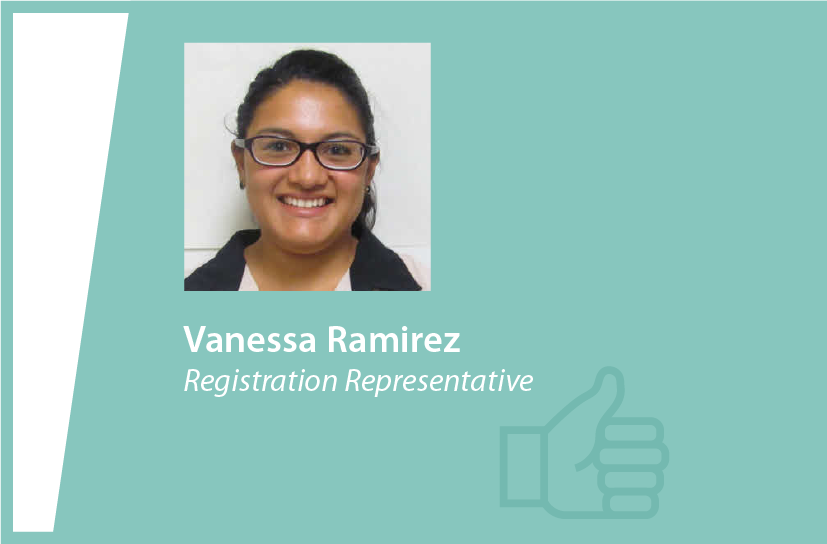 Vanessa is always working with her team to achieve their goals.
Q: What do your daily activities include?
A: Registering patients in the Emergency department is my main activity. I try to help our nurses in the ER with whatever I can. Completing my patient access tasks in Rev Cycle and helping my team with registration and scheduling or any other tasks that may need to be done.
Q: What do you love most about your job?
A: I love my co-workers and the goals we set and meet. Having a good team makes me confident to work with our patients because I know that I am giving them accurate information, and I am proud that they are receiving great care.
Q: What made you want to work in healthcare?
A: I am a people person. Any job where I can meet new people and help them is a perfect fit. In the healthcare industry, aside from great care, people seek compassion and integral persons to just be there for them. That is what I strive for, to be compassionate and always work with integrity towards our patients.
Q: Where did you go to school?
A: I graduated from Lake Travis High School in Austin, Texas, and I am currently attending online school at Grand Canyon University in Arizona.
Q: What do you like most about CHI St. Joseph Health?
A: What I like most about CHI St. Joseph Health are our values. And more than that is seeing my co-workers meet these values and putting them into their/our daily jobs.
Q: How would you describe your philosophy of care?
A: My philosophy of care is that it should be given with compassion and integrity. We may not always be able to fully heal a patient, but if we show these two values we can at least heal a bit of their soul.
Q: What do you like most about the community?
A: I was not raised in Bellville, so everyone knows I didn't grow up here. The community is very welcoming and eager to share their stories and the history of Bellville. They are very proud of their town and even more so of our new ER.
Q: What do you enjoy doing outside of work?
A: Running, soccer, and my family. I love to run, and I play soccer. I have two little ones, so a lot of my time is spent with them and anything that will put a smile on their faces.
Q: Is there anything else you would like us to know about you?
A: I truly do love helping others and love to see our patients pleased with the care they receive from CHI St. Joseph Health. It makes me proud to be a part of such an organization.