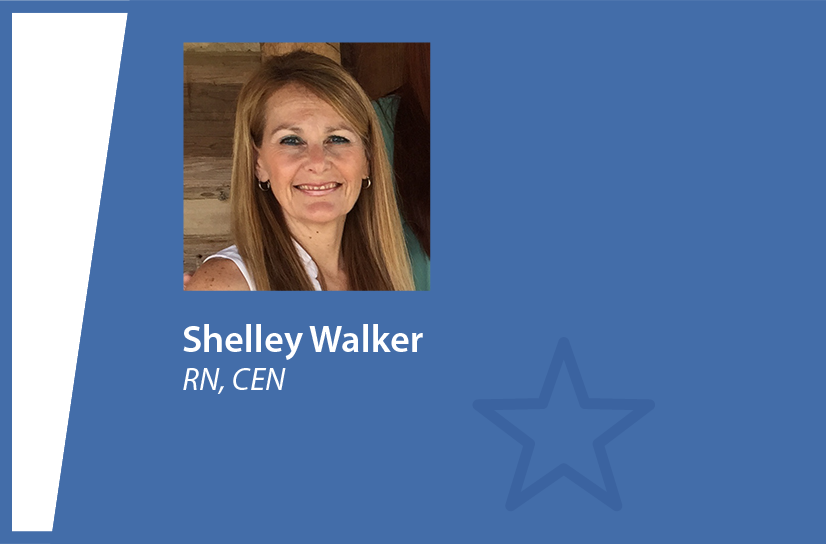 "Shelley goes above and beyond of what is expected of her as her job title as a nurse. She is always smiling and never ever stops! She is so energetic and truly cares about her patients. Shelley is an AMAZING ER/CCU NURSE!"
Q: Shelley, what is your philosophy of care and how does it always allow you to go above and beyond for patients?
A: My personal philosophy of nursing is to provide excellent patient care in a compassionate, professional, and efficient manner using my strengths as an educator, role model, and years of bedside nursing care.
Q: Tell us about yourself!
A: I have worked for St. Joseph Regional Health Center/CHI St. Joseph Health for almost 22 years. I have worked in multiple areas including critical Care, emergency, instructor for TNCC, employee vaccinations, rural emergency room facilities. I have represented St. Joseph hospital in health promotion activities, such as participation in the running program completing various runs, including a marathon in 2014. My St. Joseph volunteer record includes making over 400 lapel bow pins for the hospital's staff, honoring the tragic death of two local firefighters, making cheer bows and posters for our emergency room staff cheering for a baseball game honoring our local firefighters and police officers, volunteering over 100 hours to decorating our emergency room for two years, making hospital baskets for nurses week for three years, participating in EMS week sending out baskets and feeding the EMS crew, volunteered on multiple occasions in our community college role modeling critical and emergency room care to nursing students, and trained new nurses, volunteers, and EMS workers in the hospital. My greatest strengths are my energy and enthusiasm for work, nursing knowledge, previous experience as a Spanish teacher for five years, ability to fluently speak Spanish, creativity in art, and my immaculate record of being on time to work without any days missed in 22 years. My schooling consists of a BacheIor of Arts in Education with a major in Spanish with completion of a Fifth Year Certification, Certified Emergency Nurse, TNCC instructor, and I am currently finishing my Bachelor's of Science in Nursing.