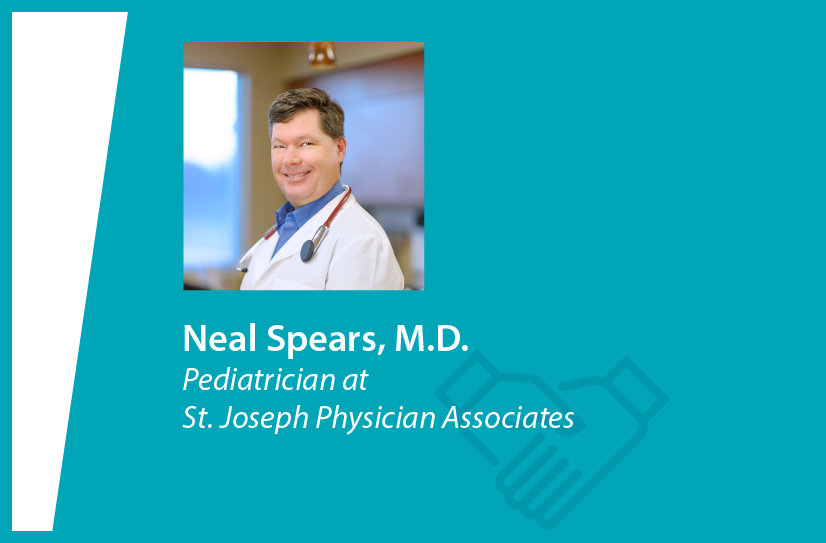 Dr. Spears is always giving his patients and their families the latest evidence-based solutions in healthcare to help them make the best healthcare decisions.
Dr. Spears's Roots
Dr. Spears decided that he wanted to work in healthcare in his late high school and early college years. He always liked the sciences and knew that he wanted to work directly with people, face-to-face, on a regular basis. After graduating from Texas A&M University, he went to medical school in San Antonio and completed his pediatric training at Texas Children's Hospital in Houston. Over his 14 years in pediatrics, he worked with several large organizations until finally making his way back to the Bryan/College Station area, where he had met his wife and had his first daughter, and joined CHI St. Joseph Health. He is grateful to have the opportunity to join our team and sees CHI St. Joseph Health as the ultimate destination for his career. He likes CHI St. Joseph Health's faith-based approach to help the disenfranchised and finds the organization's communication and value for physician input above any other organization he has worked with. 
A Vibrant and Expanding Group
Dr. Spears likes how CHI St. Joseph Health is a vibrant and expanding group that puts healthcare, rather than healthcare dollars, at the forefront. He is glad to be part of an organization that is striving to be cutting-edge on a nationwide scale as far as community health and integrating various factors to do more than just treat acute illnesses, tackling health, wellness, and prevention. He is glad that the hospital's location is near a major university because it gives access to a diverse group of patients from all over the world to help further global medical research. 
An Educated and Spiritual Advisor
Dr. Spears's philosophy of care is acting as an educated and spiritual advisor for families, answering healthcare questions with the best solutions that current evidence-based medicine has to offer. He equips families and patients with evidence-based information and gives them the ultimate decisions on the next steps of their healthcare journey. He enjoys the day-to-day interaction with patients and families, helping them cope with illness. It's a job for which he feels blessed to have the skill set and opportunity. Dr. Spears finds his hospital calls and clinical practice emotionally, spiritually, and intellectually rewarding.
Dr. Spears's Favorites
Outside of work, Dr. Spears enjoys family activities and getting involved in his church. He loves his dogs and is passionate about exercising, whether it be jogging, hitting the weight room, or participating in 5 or 10Ks. Dr. Spears serves on many committees: the Sports Medicine Committee, Electronic Charting Committee, Maternal-Fetal Committee, and Physicians Leadership Committee. He is also a member of the Lion's Club, an international community service organization.