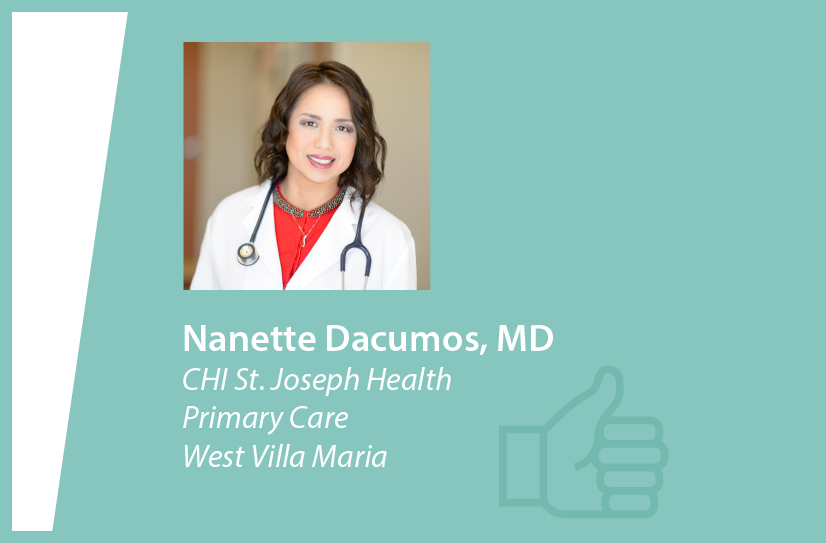 Dr. Dacumos is always inspired by her belief that God brought her to CHI St. Joseph for a greater reason.
Dr. Dacumos's Roots
Dr. Dacumos was born in the Philippines and diagnosed with polio when she was only 18 months old. As a result of her illness, she suffered weakness in her right leg and was constantly in rehab growing up. During her time in treatment, she was exposed to the disparities that deprived the Philippine's poor of healthcare. This inspired her to pursue a career in healthcare. After receiving her Bachelor of Science in Biology from De La Salle University, she attended Manila Central University for medical school. She practiced as an anesthesiologist in Manila until she migrated in 2004 to the United States and joined the team at CHI St. Joseph Health.
Simple Person With Simple Dreams
Dr. Dacumos's philosophy of care is to do no harm to patients, inform and educate patients about their illnesses, and make sure they are active participants in their care plans. She strives to best apply what she learned from her training and continues to expand her knowledge of medicine on a regular basis. Dr. Dacumos sees herself as a simple person with simple dreams. She dedicates her life to God, her family, and her patients. She always tries to possess the qualities needed to be an approachable, compassionate, confident, and caring doctor.
For A Greater Reason
Dr. Dacumos's favorite part of her job is the diverse scope of her practice. She enjoys the flexibility to see many different patients, those needing preventative care, help controlling chronic illness, or having acute problems. She works closely with a specialist to provide the best possible care to each patient. Dr. Dacumos likes how CHI St. Joseph Health is committed to providing excellent healthcare in the community. Sharing the same Catholic faith as the hospital, she always tries to understand CHI St. Joseph Health's vision and mission so she can apply it in her daily practice. She believes that God brought her to work at CHI St. Joseph Health for a greater reason, and she prays that this will be her home and place of work for the rest of her life.
Dr. Dacumos's Favorites
Outside of work, Dr. Dacumos enjoys spending time with her two girls. She loves playing with her 4-year-old and encouraging her 16-year-old's aspiration of becoming a singer. She genuinely enjoys her work, so her hobbies often include finishing up charts and following up with patients. Dr. Dacumos also loves the Bryan/College Station community. She likes having the best university nearby, and with a healthcare system comparable to those in Houston and Dallas, she is excited to see the booming business development and job growth in the area.