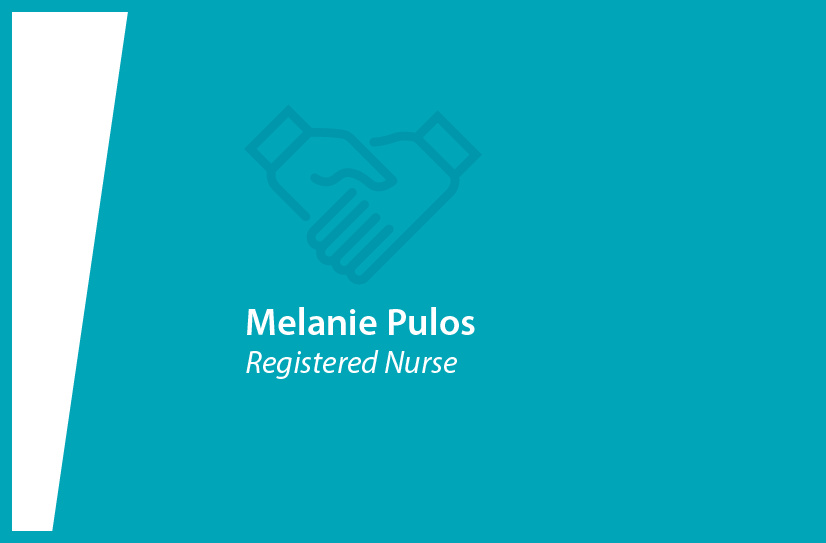 Melanie Pulos
RN
Melanie is always making the most of every day, excited to learn and help others.

Q: Melanie, what do your daily activities include?
A: My daily activities include waking up at 5am whether I'm working or not because I honestly wake up planning my day, and I want to be able to fit as much in as possible. I work 12-hour shifts, so when I get home, I spend the rest of the day with my husband and 6 little shih tzus.

Q: What do you love most about your job?
A: I love the way the medical field is always changing. Every day you come to work is an opportunity to learn something new. I've been a nurse for over 10 years, but sometimes I still feel like a new nurse, and I'm amazed at all the knowledge around me.

Q: What made you want to work in healthcare?
A: I was always interested in science. I was the weird kid with the bug collection, but I wanted to keep them alive and watch them. I guess a nursing career was just a natural progression.

Q: Where did you go to school?
A: I went to nursing school at Wharton Jr. College.

Q: What do you like most about CHI St. Joseph Health?
A: I appreciate all of the ongoing and current education I can receive at CHI St. Joseph. I think the education they offer us is outstanding and accessible to all of the "rural" locations. When we do have to travel to the larger hospital for education, we are treated as equals and welcomed by the other employees.

Q: How would you describe your philosophy of care?
A: My philosophy of care goes back to what I learned in my early childhood. "Treat others as you would have others treat you," and "God helps those who help themselves." I grew up in a very small Quaker community and treating others with respect and dignity was very important as well as giving people the skills or education to take care of themselves and take pride in themselves. Nurses have a unique opportunity to help with the physical as well as the mental issues that many people have today.

Q: What do you like most about the community?
A: I love the "smallness" of my community. Everybody knows everybody.

Q: What do you enjoy doing outside of work?
A: Anybody that knows me knows that I love to sew and crochet. I have a part-time business designing, making and selling children's clothing.