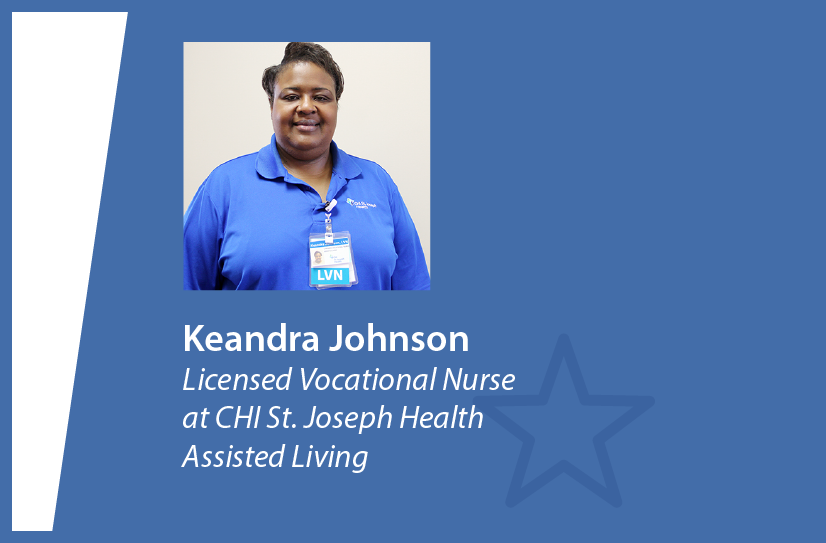 Keandra is always going out of her way to take care of residents.
Keandra's Roots
Keandra was inspired to pursue a career in healthcare by her mother who worked at CHI St. Joseph Health as a nurse aide as Keandra grew up. She saw how much her mother enjoyed her job and knew that helping and taking care of people was her passion. When Keandra was 16 years old, her mother encouraged her to apply for a pot-washing job at the hospital. After graduating with her LVN license from Central Texas College in Killeen, Texas, she joined her mother again in 1999 at CHI St. Joseph Health, where they both continued their careers to this day.
Always With A Smile
Keandra doesn't mind doing whatever is needed to make her coworkers' jobs easier. She is all about teamwork. Her philosophy of care is about putting her patients' needs first, making sure they are satisfied and that they always walk away with a smile. Her daily activities include checking on patients, arranging visits with doctors, following doctor's orders, and keeping track of her patients' medications.
Always Going Out Of Her Way
Keandra has and is always there to provide excellent care for CHI St. Joseph Health Assisted Living seniors. When a resident needs something done, they know they can ask her and that it will get done expediently with kindness and respect. Keandra always seems to place others before herself, especially when caring for the residents. She often takes time out of her lunch break to sit and chat with a resident who is feeling lonely. After a resident mentioned to someone passing by in the hall that she was craving a Milky Way bar, Keandra overheard and bought her one. On numerous occasions, Keandra has visited the cafeteria just to purchase a Coca Cola for a resident who had been "craving a Coke for several weeks."
Keandra's Favorites
Outside of work, Keandra enjoys being a mom to her 15-year-old son, Victor, who always keeps her busy. She loves all her coworkers, all the residents, and their residents' families. She enjoys the atmosphere at CHI St. Joseph Health and how everyone cares about each other.
We at CHI St. Joseph Health are glad to have Keandra's kind nature and above-and-beyond care. Thank you for always giving your best for our patients!