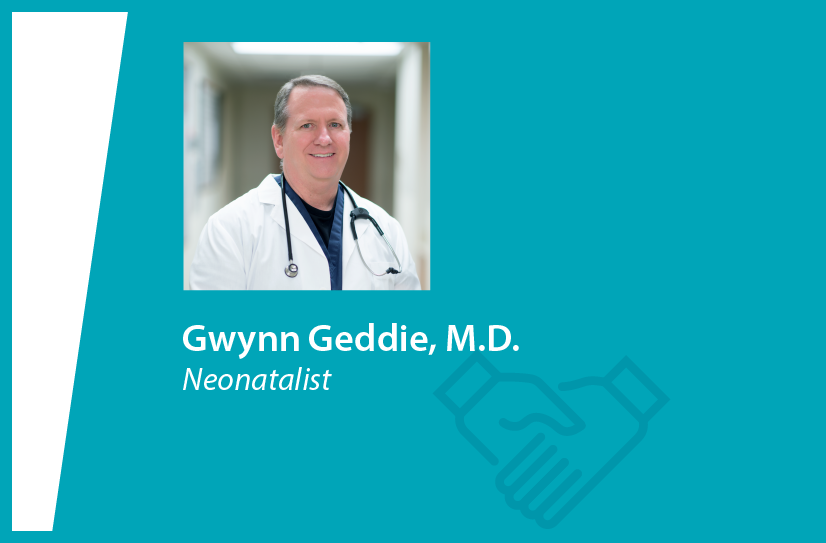 Dr. Geddie is always sharing the love he has for his job through the care he gives his patients.
Q: What do your daily activities include?
A: Taking care of babies! I make rounds on the babies in the NICU first thing in the morning, and then I go see the babies in the newborn nursery. I also participate in the clinical teaching of third year medical students 4 days a week.
Q:  What do you love most about your job?
A: Babies! I have the best job in the world. I play with babies all day. I help new parents learn about their babies. When babies have significant, even life threatening problems, I get to help them get better and go home to their parents.
Q: What made you want to work in healthcare?
A: My father and grandfather were both family practice physicians in East Texas. Their examples of caring for their patients and the lives they affected for good were a big part of my decision.
Q: Where did you go to school?
A: B.S. – Texas A&M University.
M.D. – University of Texas Health Science Center San Antonio
Pediatrics Residency – Brooke Army Medical Center
Neonatology Fellowship – University of Colorado Health Sciences Center
Q: What do you like most about CHI St. Joseph Health?
A: St. Joseph is a nonprofit hospital with a Christian-based philosophy of care. While it has to charge for services to be able to continue its mission, making money is not the primary focus. I have always worked at nonprofit hospitals.
Q: How would you describe your philosophy of care?
A: Do what is right no matter what. Listen to your patients and their families. Treat your patients and their families as you would want to be treated. Take care of your nurses. I have had several of my own children in the NICU and PICU, so I have the perspective of being a parent of a sick child as well as a physician caring for sick children.
Q: What do you like most about the community?
A: My wife and I met and married while we were students at Texas A&M. We love the small city feel and the friendly conservative attitude here.
Q: What do you enjoy doing outside of work?
A: Family, fishing, hunting, and flying.
Q: Is there anything else you would like us to know about you?
A: I believe in Christ.