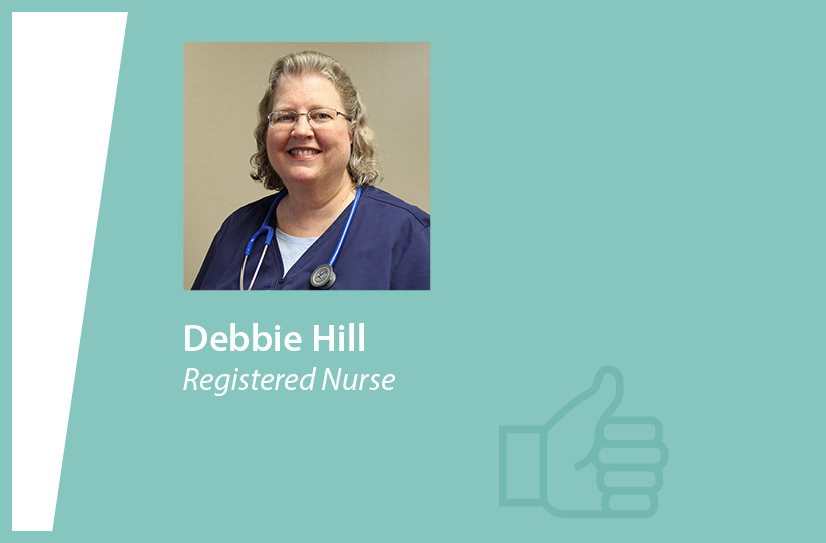 "Debbie is always sharing her life-long passion for nursing through her outstanding care."
Q: Debbie, what do your daily activities include?
A: I work in the Critical Care Unit weekends, night shift as a staff nurse, and relief Team Leader. I care for patients with life threatening problems and maintain life support for critically ill patients. As team leader, I manage the unit and respond to all in-house codes.
Q: What do you love most about your job?
A: I enjoy the wide variety of technology used in the critical care setting. I like having to use critical thinking and decision making to manage positive outcomes for my patients. I like the way my coworkers come together as a team to get the job done and done well! Although I have worked in other hospitals in various departments, these things have kept me in Critical Care at CHI St. Joseph Health for the past 30 years. It is a great place to work.
Q: What made you want to work in healthcare?
A: Growing up I always wanted to be a nurse. But as an adult, I became a nurse because I wanted to make a positive difference in a person's outcome when they were ill. I want my patients and their families to feel there is someone they can trust to do what is best. I like serving and caring for others and found myself drawn to biological sciences. Nursing is the perfect fit for me.
Q: Where did you go to school?
A: I trained to be a nurse my entire life as I grew up. It all started at age 4 with my "Nancy Nurse" doll and the new nurse's kit I got each year for my birthday. A highlight was a nurse's uniform (costume) I got for my 6th birthday. I remember in 4th grade reading and being inspired by stories of Clara Barton (a civil war nurse). At 14 I was a Candy Striper and went to nursing school right out of high school. I graduated from Beebe Hospital School for Nursing in Lewes, Delaware. I always wanted to work in Critical Care.
Q: What do you like most about CHI St. Joseph Health?
A: I like that CHI's Core Values of reverence, integrity, compassion and excellence align so well with my own. I know I am in the right place.
Q: How would you describe your philosophy of care?
A: Do your best for a person regardless of race, religion, politics, or personal background. None of this matters. Do your best and what you know is right, no matter who you are caring for.
Q: What do you like most about the community?
A: I like that our community is a great place to raise a family. We are very modern, up to date and competitive while still having a small town feeling with big city benefits.
Q: What do you enjoy doing outside of work?
A: I enjoy planning and taking family trips. I enjoyed the chance I had to lead a Girl Scout troop for 12 years and bring them through their gold award. During this time I had many opportunities to get involved in and learn about my community. I also enjoy serving in various capacities with my church. And I am so loving being a grandmother to Emmie and Eli!