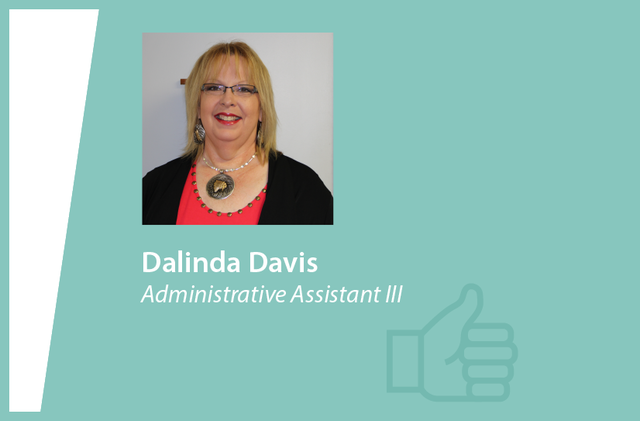 "Dalinda is always sharing the healing ministry of the Church."
Q: Dalinda, what do your daily activities include?
A: Taking care of my administrative duties/projects, my administrator's and DON's needs, assisting in answering phones, helping staff with computer/printer issues. When I am anywhere throughout the hospital, ensuring patients have been assisted and/or taking them to their destination and recite the prayer every morning over the PA system.
Q:  What do you love most about your job?
A: The joy of helping others and just coming to work to be with my hospital family.  I come from a family who was very compassionate about helping others. My father was a volunteer ambulance driver/caregiver for years, was the longest member of the volunteer fire department when he passed away in 1991, worked full-time, worked part-time at Strickland Funeral Home in Somerville for many years, served on the City Council and was well known throughout Burleson County. He and my mother passed that compassion for helping others on to me.
Q: What made you want to work in healthcare?
A: Actually I feel God called me here. I came to work here in September 1997 and had been looking for a full time job after my divorce in December 1996. I had been working part time prior to my divorce.  A friend of mine, Office Manager of the Somerville Clinic at the time, knew I was looking and called me about a full time job with Burleson St. Joseph Health Center, actually it was ½ time at the Somerville Clinic and ½ time Administrative Assistant at the hospital. I interviewed for the position and was informed the same day I had the job. Over the last 18 years, I have served as Office Manager of the Somerville Clinic (now HealthPoint-Somerville), Office Manager of the Lexington Clinic, as well as continuing my role as Administrative Assistant. In 2009, my role changed as the needs of the hospital and needs of the administrator changed, and I began my role as Administrative Assistant full time.
Q: Where did you go to school?
A: I attended Somerville schools and graduated from Somerville High School in 1979. I attended Blinn Junior College and studied General Business.
Q: What do you like most about CHI St. Joseph Health?
A: I love being with my coworkers/people and love the freedom to share Christ and pray with others when the opportunity arises.
Q: How would you describe your philosophy of care?
A: Compassionate and giving, making sure we meet all facets of the healing process (mind, body and spirit) for our patients and their families.
Q: What do you like most about the community?
A: I like the small town atmosphere and knowing everyone.
Q: What do you enjoy doing outside of work?
A: I enjoy time with my family/friends and boyfriend/family. I also love singing and have grown up with a talented family singing in church. I sing in our band at Burleson County Cowboy Church.
Q: Is there anything else you would like us to know about you?
A: I am a 7-year breast cancer survivor and know God healed me for a reason, which is to share my story with others and help others and their families going through difficult times. I am very grateful for the opportunity to work at a faith-based organization and feel very blessed to continue carrying out His ministry with CHI St. Joseph Health.