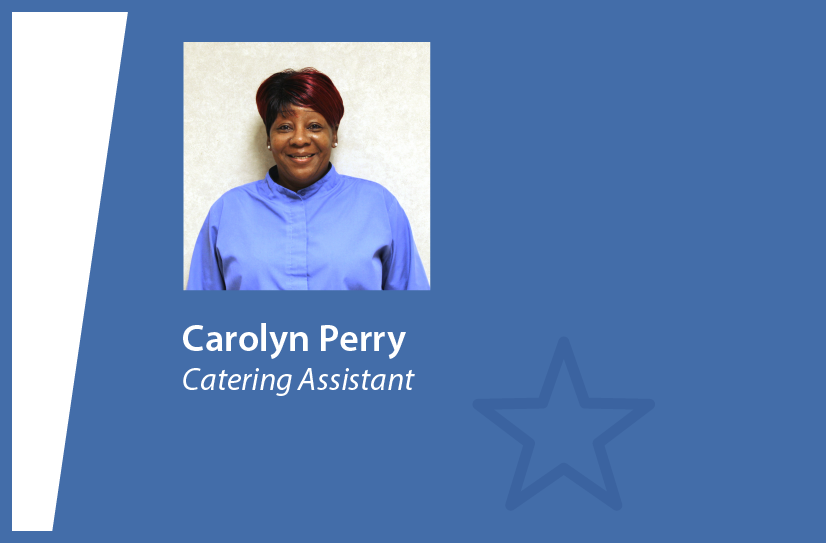 Carolyn is always making her patients feel like they are cared about and that they are not alone.
"Carolyn is a fairly new associate at CHI St. Joseph Health. Carolyn is extremely professional in her dress and work attitude. Carolyn says she loves working here because she loves her patients and making them feel that they are cared about and not alone. She also likes listening to them and putting a smile on their faces. She feels this makes her perfect for the job she does here, and I would have to agree. Carolyn feels happiness knowing that she can make her patients smile and bring them joy. Carolyn also enjoys interacting with her co-workers and supervisors to do the best job that is expected of her. It has really been a pleasure having her on my staff, and I hope she will continue here at CHI St. Joseph Health for many years to come."
Q: Carolyn, what do your daily activities include?
A: Wait staff, serving the patients their food and making sure that the patient is satisfied and enjoying the experience at CHI St. Joseph Health.
Q: What do you love most about your job?
A: Taking care of the patients and going the extra mile to bring a smile to their faces.
Q: What made you want to work in healthcare?
A: Because I enjoy caring about peoples. Care is in my nature.
Q: What do you like most about CHI St. Joseph Health?
A: The new growth.
Q: How would you describe your philosophy of care?
A: Making sure of the goals and values to help me make the best choice for my patient, applying compassion and commitment, excellence, and respect.
Q: What do you like most about the community?
A: Small growing community, I like it when people call you by your first name, the friendliness, happy people, teamwork, and generosity.
Q: What do you enjoy doing outside of work?
A: Talking and worshiping GOD, shopping, family gathering, etc.
Q: Is there anything else you would like us to know about you?
A: I am God fearing.