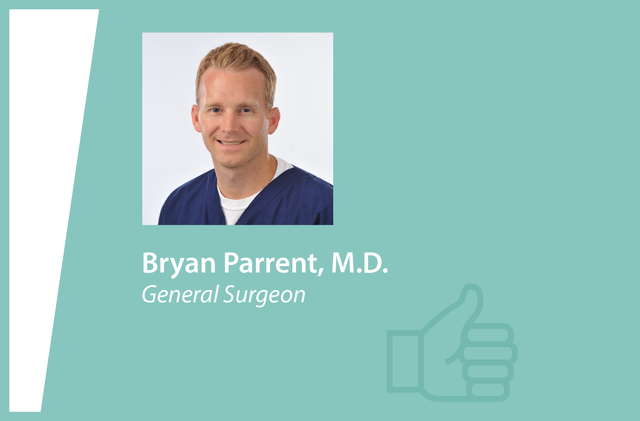 Dr. Parrent is always happy to fix his patients' problems.
Dr. Parrent's Roots
Dr. Parrent wanted to pursue a career in surgery because he wanted the ability to help people and to diagnose problems and fix them. After graduating from Texas A&M University, he went to the Medical School at Texas A&M University, then surgical training at Baylor University Medical Center in Dallas.
Staying Busy
Dr. Parrent's philosophy of care is about respecting the patients, their questions, and their concerns. He works to anticipate any problems and potential complications and to continue practicing medicine in a scientific and safe way. He stays busy as a full-time general surgeon, working in both clinical offices and the operating room, and as Associate Professor of Surgery at the Texas A&M University Health Science Center in the College of Medicine. He enjoys how every day at the hospital is different as he gets to meet with patients to help fix their problems and see the results of that help.
Dr. Parrent's Favorites
Outside of work, Dr. Parrent enjoys traveling, golfing, and spending time with his two children. His favorite part of the Bryan/College Station community is that it has a small town atmosphere while the university brings in big city amenities. What he likes most about CHI St. Joseph Health is how the staff puts patients first and how all the staff, top to bottom, are good people who really care. He feels that the hospital is a great work environment and likes how each employee has a say in their daily activities and responsibilities.
We at CHI St. Joseph Health are glad to have Dr. Parrent's hardworking passion and expert care. Thank you for always giving your best for our patients!