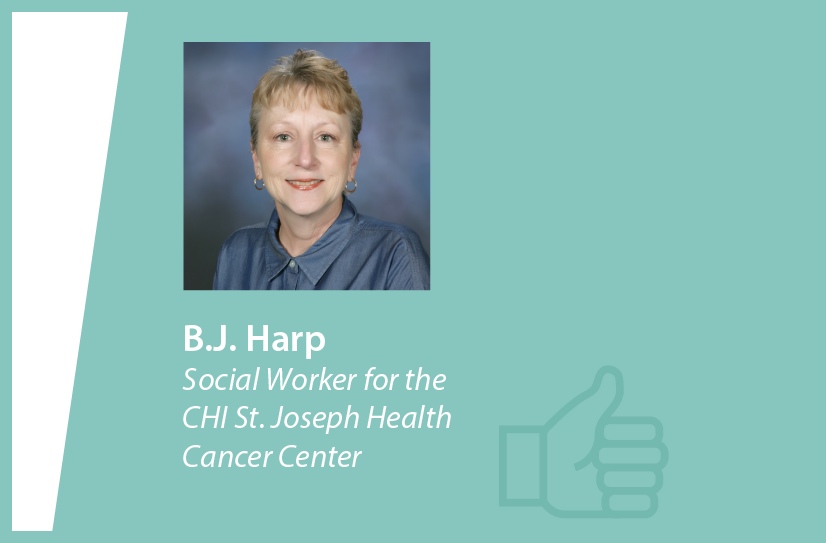 B.J. always has a smile on her face when doing her work and caring for others.
"I do not know how we could have done without B.J. She helps us in so many ways. She goes that extra mile to help patients with resources to cover their copays and lower cost of medications. She helps the physicians find replacement drugs for our patients. She helps them confront and deal with end of life issues and make appropriate referrals. She always has a smile on her face while doing her work. She will stay after hours to make sure that the patient that she is working with is taken care of. We all enjoy her sense of humor. When she is not here, we can tell. Her coworkers all have so much respect for her and how she conducts herself professionally. She takes each individual and embraces him or her at that moment of need. She requires no direction as she takes whatever is asked of her and completes the task without complaining. If she does not know something, she does not mind doing the research to make sure that it gets done. It is a joy to work with her on a daily basis. We are blessed to have her as part of our team."
Q: B.J., what do your daily activities include?
A: To be knowledgeable about oncologic diseases and their treatments, psychosocial implications for individuals and families, appropriate interventions and available community and governmental resources. Screening for psychosocial distress, completion of psychosocial assessment of the patients and family response to the cancer diagnosis. Assist the uninsured and underinsured patients for resources to cover out of pocket costs for their cancer treatments, which may include medications, travel expenses to and from treatment, lodging and identification of barriers to care.
Q: What do you love most about your job?
A: I cannot single out any particular thing about what I love about my job because I love every aspect of what I do. I enjoy coming to work every day because I know that each day will be different from the day before. I do like the fact that it is never the same and I have the opportunity of working and meeting with some incredible people and families. When I can make a difference even in the smallest of detail, then I know that I am where I want to be. I cannot leave out that I work with some of the greatest people ever. This includes the therapists, nurses, medical staff and physicians.
Q: What made you want to work in healthcare?
A: I initially wanted to be a nurse because I have always had the desire to help others. I believe that nurses are an incredible group of people and I have so much respect for them. When I was in college, one of my instructors told me that he thought I would make a good social worker because of my desire to "dig deep into someone's soul," so here I am! Thank you to my great mentor!
Q: Where do you go to school?
A: I attended Hill Junior College in Hillsboro, Texas. I went on to complete my education at East Texas State University in Commerce, Texas. It is now known as Texas A&M University- Commerce. I have a certification in Grief Counseling from the American Academy of Grief Counselors.
Q: What do you like most about CHI St. Joseph Health?
A: I have worked for St. Joseph for about 20 years, and I have personally experienced the growth over the years, and that has been exciting. What remains constant is the care and compassion for the community. The opportunities that are provided for the employees within the system helps create a secure foundation where one wants to stay and work.
Q: How would you describe your philosophy of care?
A: I have this posted on my bulletin board in my office that says: We plan, God laughs. This is daily reminder to me that apart from him we can do nothing on our own. I ask him daily, and sometimes more, to lead me, to humble me and to show others the love and compassion that he has for all of us. I believe that he has given every one of us gifts and talents that are to be used to care for others regardless of who they are and where they come from.
Q: What do like most about the community?
A: I like the fact that Texas A&M lives here. Except for the traffic of course! But it is very diverse and many opportunities are given. The community has proven time and time again that we come together in good times and bad.
Q: What do you enjoy doing outside of work?
A: My husband Rick and I love spending time with our 2-year-old granddaughter, Riley. She brings out the child in both of us. I also enjoy reading, going to church, taking long naps, going to the beach, acting silly and volunteering at the animal shelter when I can.
Q: Is there anything else you would like us to know about you?
A: I was born in Cuba and my first language is Spanish. I am very grateful to my mom who only spoke to me in Spanish growing up. I am so blessed to have the opportunity to assist with translation where I work. I have two amazing children, Morgan, who is a medical assistant for the cancer clinic, and Brett, who is a student at Texas State University and is interested in becoming an RN. Last but not least, I have the most the AMAZING supervisor, Misty. Thank you, Misty, for being who you are!!!