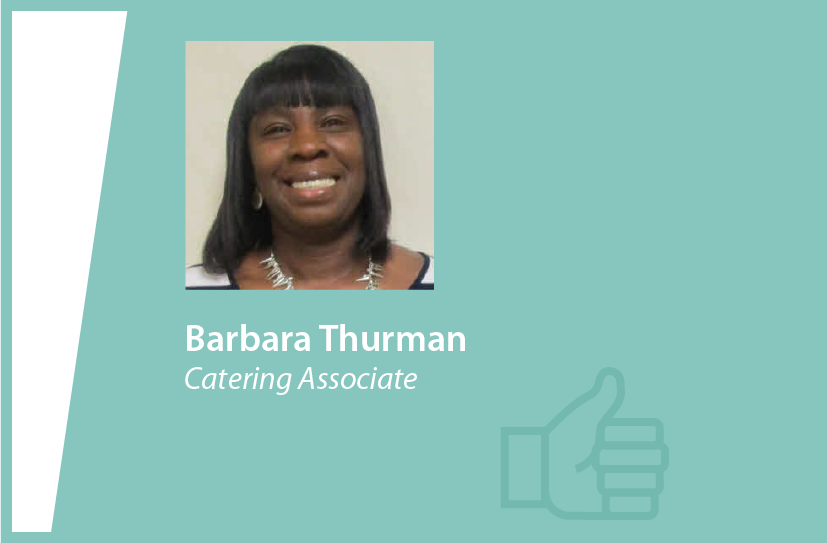 Barbara always behaves professionally and is always smiling
"Barbara is coming upon her 1 year anniversary here at CHI St. Joseph Health. She has been a stellar associate. Barbara always behaves professionally and is always smiling. Barbara loves working at CHI St. Joseph Health because she loves dealing with people and making them feel better as she has done in all her work in her adult life. She also enjoys meeting new people and making new friends. She tries to make the patients smile whenever she is dealing with them. Barbara believes in treating the patients like members of her family. Barbara says of her supervisors that they are respectful and nice to her. They take the time to hear what she has to say then responds in a professional manner. Barbara says she is 'happy to be a part of this hospital.' I am so pleased she is part of our department and loves working here."
Q: What do your daily activities include?
A: My activities include giving the patients their food and greeting them with the most respect and dignity. I use my identifiers to make sure I'm speaking with the right person, and after I give them their food, I make sure they are comfortable and satisfied with the service they are getting.
Q: What do you love most about your job?
A: I love that I get to directly see who I am taking care of so they can see how much we really care about them. I love the fact that I get to see them smile knowing I am doing my part to make them feel better.
Q: What made you want to work in healthcare?
A: I have been taking care of people all my life, and even my foster children I have been taking care of for a long time now. I feel it's a calling to me because God has been allowing me to do this for this long period of time, and I never get tired of it. It's a very heartwarming thing knowing I can make a difference in someone's life.
Q: Where did you go to school?
A: I graduated from Bryan High School here in town.
Q: What do you like most about CHI St. Joseph Health?
A: I like the fact that it is a system put together that makes everyone work as a team to give the best service. All rules go to follow and everyone is happy with all policies. I love the fact that everything about the company is the truth.
Q: How would you describe your philosophy of care?
A: My philosophy is care must first come from the heart. If you don't have in your heart to love then there is no way possible you can build to care. Once you have love in your heart, you can physically show your care by the good actions that you bring out.
Q: What do you like most about the community?
A: It's a very warming place, and I am surrounded by my family and teachers who all taught me. We are one big happy family, and we all take out and look out for each other. There is a great deal of love, and if anyone needs help, we all come together.
Q: What do you enjoy doing outside of work?
A: I love going to church and working with children.
Q: Is there anything else you would like us to know about you?
A: To me it is a joy to help and care for others. I grew up in the church and was taught very well to care, love and respect all and to treat people like I would want to be treated.