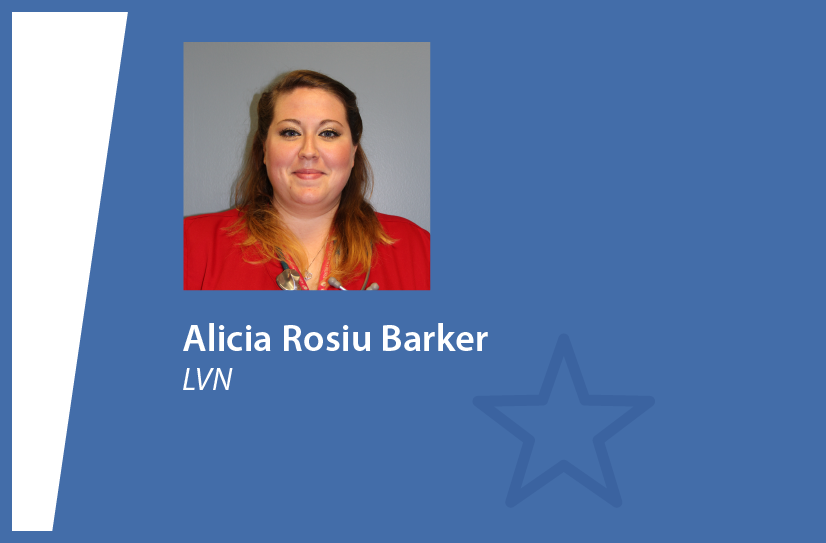 "Alicia, my Coumadin nurse, is kind, knowledgeable, and always on time. I adore her."
Q: Alicia, what do your daily activities include?
A: Testing patient blood levels and adjusting warfarin doses, educating new patients on warfarin therapy and assisting with heart failure patient care when needed.
Q:  What do you love most about your job?
A: I love that I get to know my patients on a more personal level because I see them so frequently. I love the cards they write me and pictures they share. I even get to watch some of the grand children grow up when they accompany granny to their visits.
Q: What made you want to work in healthcare?
A: My mom was diagnosed with kidney cancer when I was in senior year of high school and early college. I got to assist a lot in her care after her surgery. I've always liked helping people and nursing just seemed like the right job to do that.
Q: Where did you go to school?
A: I went to Joe G. Davis in Huntsville for my LVN, and I'm currently enrolled in Blinn with four classes remaining before I can apply for the RN Clinical portion.
Q: What do you like most about CHI St. Joseph Health?
A: I like that our office is like a family and a well-oiled machine. I also enjoy that CHI St. Joseph Health takes time out to do special activities like lunches to honor its employees.
Q: How would you describe your philosophy of care?
A: When I was a nurse in the prison system, I learned that the more difficult a patient is the more I want to provide good care. All of my patients present their own challenges, but I always take each patient as an individual and learn the nuances to providing the best individualized care.
Q: What do you enjoy doing outside of work?
A: I like to spend time with my best friends and my husband, exploring new activities and listening to music. I also dabble in painting and violin when I have a little extra free time.